Data-led
conversations
for true Agile collaboration
Working, learning, and winning as a team is the best policy. Axify gives you the tools you need to foster better teamwork.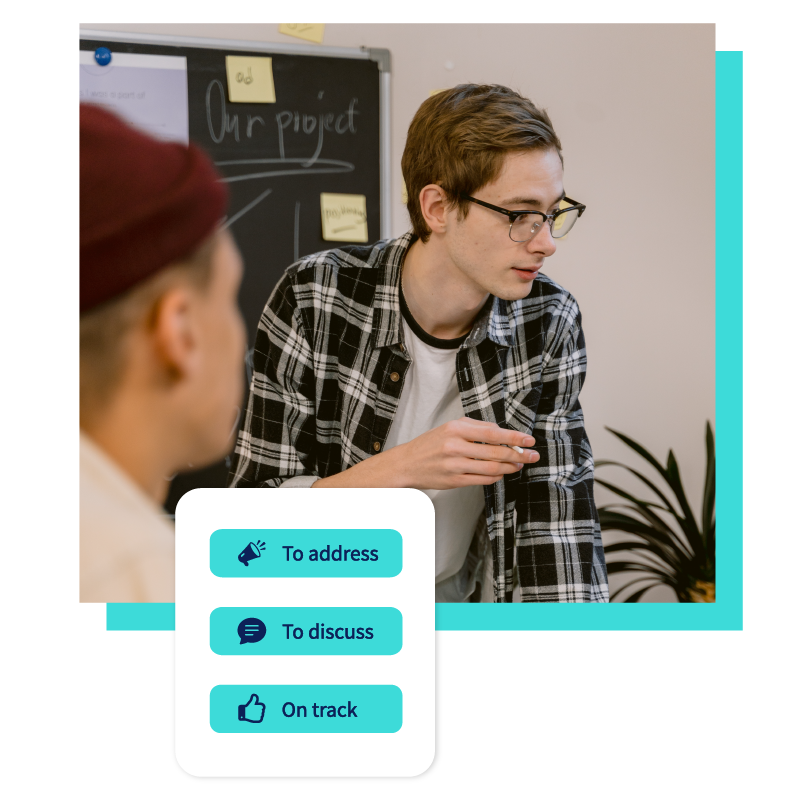 Features for real-life dev team problems
If the lack of trust in your team affects the delivery quality
Axify solution:
Team pulse
Discover our trustworthy morale chatbot! Automatically and anonymously, ask team members development-specific morale questions to quickly identify potential conflicts and foster vulnerability. We survey contributors along five dimensions (stress, motivation, inclusion, security and alignment) with daily prompts to answer short and simple questions.
If you always feel rushed at the end of the iteration
Axify solution:
Forecast tool
Software development is not deterministic, i.e. it is impossible to repeat the same experiment and always get the same result. So how can Axify predict software delivery? Our forecasting tool relies on multiple simulations based on the team's historical data to either predict how many items your team can deliver over a period of time or when you will deliver a set number of items. And this all happens in real-time! Pretty cool, right?
If you tend to work in silos rather than collaborate towards a common goal
Axify solution:
Dashboard overview
Get an overview of everything going on in the team with our easy-to-read dashboards. Since Axify collects data in real-time, you'll be able to stay on top of things and address issues as they arise. No more hiding! Plus, we focus on team performance rather than individual wins to foster true collaboration.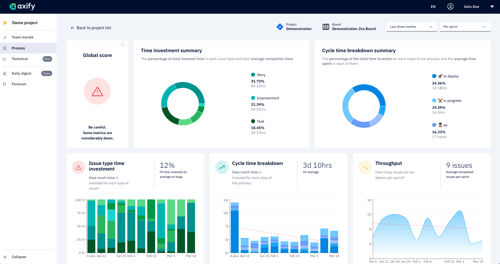 If the number of bugs has increased, and you don't have time to fix them
Axify solution:
Keep an eye on QA
Our Technical Axis gives you all the tools you need to analyze bottlenecks and areas of improvement in your Quality Assurance process. For example, are more Pull Requests being self-reviewed? Are bugs fixed quickly? Are developers leaving comments in their reviews? Find answers to these and many more questions with Axify!
If you feel like you never deliver enough value despite a high WIP
Axify solution:
Collaboration metrics
Working on many items at a time may sound great in theory ... but how many of them make it to deployment? Psst! That's where you deliver real value to clients and users! If your small team of developers is constantly working on big batches of items, it may be time to inspect your WIP and work towards collaboration. As a side effect, items will get to Done quicker: you'll see!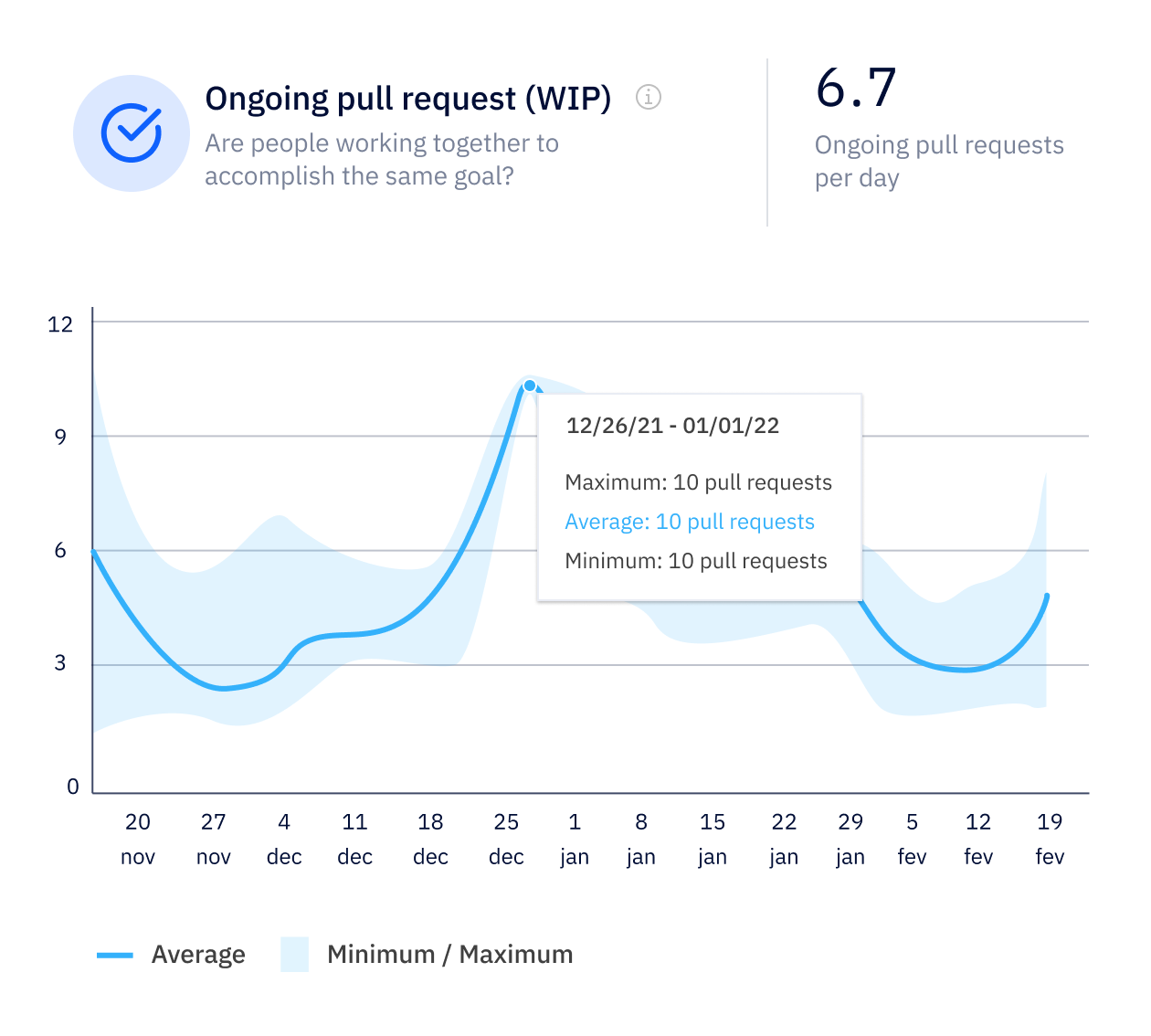 If your meetings are unstructured and offer little value, especially the daily
Axify solution:
Daily Digest
Start the day off right with Daily Digest! Observe the state of your sprint at a glance and identify the most urgent tasks to discuss as a team. By gathering the data from the process and technical axes on a single page, it will inspire your team to have the right discussions during the meeting and thus maximize the efficiency of this ritual.

Are you working with Kanban? No problem! Use our tool to optimize your workflow daily and help your team close tasks quicker.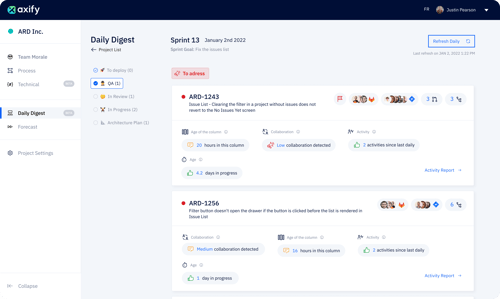 If your workload does not allow you to implement best practices or innovate
Axify solution:
Start with data
To improve, you need to know what you're working with. Axify gives you everything you need to figure out where you are so you can start measuring progress. Our tooltips provide essential information to help you interpret variation and see improvement over some time. That way, you can see the impact of your actions and quickly draw links between metrics. In addition, our experts are available to help you find solutions.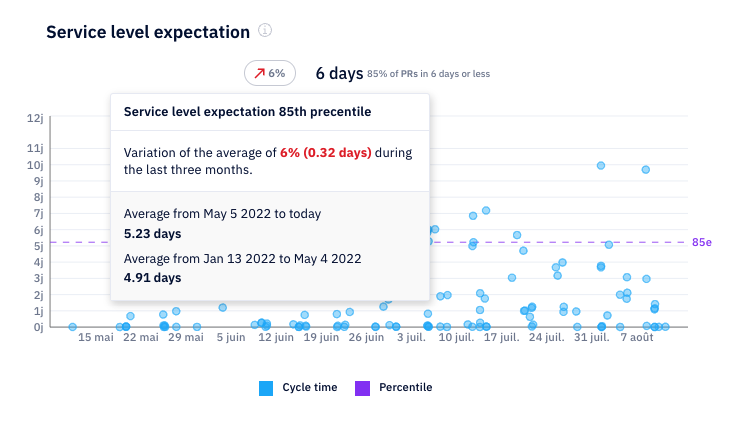 Would you like to see how Axify works?
You're in luck! Our Product Specialists prepared this virtual tour of the app to give you a sneak peek.
Have a complex use case?
No two dev teams are alike. So let's figure out if Axify is the right fit for you.



The science behind Axify
We're so passionate about software delivery performance that we researched everything on the subject. And many studies such as DORA (DevOps Research and Assessment) research and the SPACE framework showed that proactive observation is essential in predicting future performance in software development.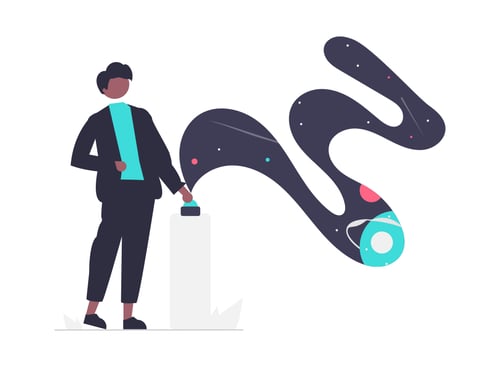 Frequently asked questions
What does Axify do?
Axify is a single platform to observe all the metrics that will help you improve your development and delivery processes. Get all your data in one place, collected in real-time from tools you already use, presented on easy-to-read dashboards that inspire meaningful conversations to elevate teamwork and collaboration among developers. Address challenges as a team, find solutions together and create better software!
How long does it take to get results?
Axify starts gathering data and presenting dashboards as soon as your integrations are connected. The only exception is team morale, where we wait two weeks before generating the first report to ensure good data representation and anonymity.
How does onboarding work?
Rest assured, it's pretty easy. First, we'll help you add your team (both Axify users and developers who will receive daily surveys) to your organization. Then, we'll guide you in activating various integrations to begin data synchronization. Once these two components are in place, you're ready to analyze and improve your processes.
Do you provide customer support?
We sure do! We include customer support with all of our plans through our knowledge base or our Product Specialists. So write an email or open a chat to get started!
What information do you store?
We currently only persist responses to the team morale surveys and the scores of the various Axes. Axify's infrastructure uses mainly AWS services to manage and deploy its infrastructure. Amazon PaaS allows for robust IT security and flexibility in deployments. Microsoft Teams Bot is hosted on Azure. DNS are managed from CloudFlare. For more information, see our page on this subject.
What is your privacy policy?
Stay up-to-date on our roadmap and new features
Subscribe to our newsletter!