Nexapp Launches Axify to Help Development Teams Perform Better
Axify empowers teams with software delivery intelligence to improve the visibility, stability and predictability of software development.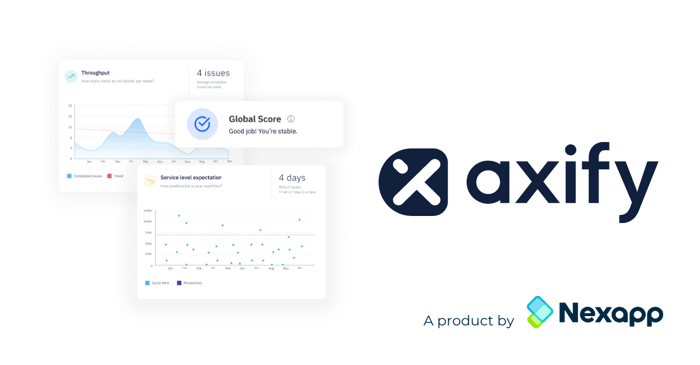 October 25, 2021
By Axify.io
Reading time 🕒 3 min
Press release | For immediate distribution
Nexapp, a Quebec City-based software development company, launches Axify. This new SaaS solution provides an overview of software engineering teams' development cycles and enables artificial intelligence to predict product delivery better.
Why Axify?
Software development presents specific challenges in terms of delivery times and visibility into product progress, which affects collaboration within teams and communication with managers and clients.
The new reality of hybrid, asynchronous, and distributed work has also highlighted the need for tools that reduce friction and disruption while helping development teams better understand their productivity and capacity.
In addition, in the context of the skilled labour shortage, the challenge is to attract and retain talent. Without a complete team, we must find innovative ways to deliver as much quality with fewer people. That's why Nexapp developed Axify.
"From our experience coordinating more than 15 software development projects simultaneously and having faced these challenges to keep delivering quality products and an exceptional experience to our clients, we have identified an opportunity to improve our operational excellence with a SaaS solution. And we now want to bring that solution to as many organizations as possible."

Jonathan Lessard, President and co-founder of Nexapp
How does it work?
Axify aggregates information from multiple tools that developers already use daily, such as Slack, Jira, GitHub and many others, to provide continuous visibility into development projects along three fundamental axes: Human, Process and Technical. Collecting data and manually assembling reports in spreadsheets is now replaced by a real-time metrics tool.
Axify automatically gathers data on team morale, issues and git repositories to fuel constructive conversations with objective data. This increased visibility allows development teams to measure themselves to improve, stabilize and plan. As a result, they can better understand their production challenges and more accurately predict product delivery.
The science behind Axify
The three axes observed by Axify are pillars that drive better software delivery performance and organizational performance. A study conducted by DORA (DevOps Research and Assessment) showed that proactive observation is essential in predicting future performance in software development. Contextualized data leads to informed decisions.
"Over the years, Nexapp has observed that three elements are the pillars of successful development teams. These are our three axes: people, processes and the technical component. By measuring these elements, we ensure that we understand how the teams are doing to prioritize important elements to address."

Rafaël Van Coppenolle, Product Director at Nexapp
To use Axify
Many organizations have already added Axify to their productivity toolbox in the past few months. Organizations interested in learning more about the benefits of using the platform can contact the Axify team by visiting www.axify.io.
-30-
About Nexapp
Nexapp was founded in 2014 by three passionate software engineers on a mission to raise the standard of quality in technology projects. By combining thoughtfulness for people, process optimization, and software engineering best practices, Nexapp designs sustainable solutions and delivers products with great value. And to better achieve this, the team has developed Axify.
For more information
Jonathan Lessard
President and co-founder of Nexapp
jlessard@nexapp.ca
418-476-2090
We help software development teams reach better delivery performances.
Stay up-to-date on all things Axify
Receive articles and insights to help you stay up to date with all things software development directly in your inbox.